Products
Grinotex Sinus - The external venetian blind with metal joints Sinus from Griesser
Description
The Sinus slats not only look good, they can also do a lot. The curved form guides intrusive light rays to the ceiling. A comfortable ambiance is thus guaranteed. And if you'd rather have it darker, Grinotex Sinus can also be fully closed using the sealing lip.
Discover Soft-Closing: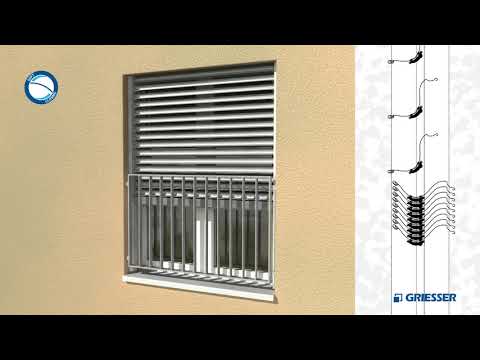 Documents
Brochure External Venitian Blinds

Technical data sheet Grinotex III

Short manual External venetian blinds

Short manual Covers

Short manual Articulated cranks

Short manual Connection technique

Wind classes External venetian blinds

Total energy transmittance

Technical data sheet Covers

Operating and maintenance instructions External venetian blinds

EPD Environmental Product Declaration Grinotex

SuPIM Sustainable Products Information Module - Grinotex III
Please select a group in order to display the associated CAD files.